The wildlife of Assam - A scanty map on Assam wildlife
Wildlife of Assam consists of 16 Wildlife Sanctuaries, 2 Bird Sanctuaries and Five National Parks along with hundreds of reserve forests. These are listed as protected areas of Assam. But besides these areas a variety of wild flora and fauna can be seen throughout this land. Nearly 950 bird species (that forms more than 50% of bird species found in Indian-sub-continent) which includes 17 endemic species are found in Assam. Assam is home for nearly 190 mammal species, more than 700 species of butterflies, 387 species of Moth, nearly 70 species of Amphibians, 116 species of reptiles and more than 180 species of Fish. These figures show the richness of the Bio-diversity of Assam.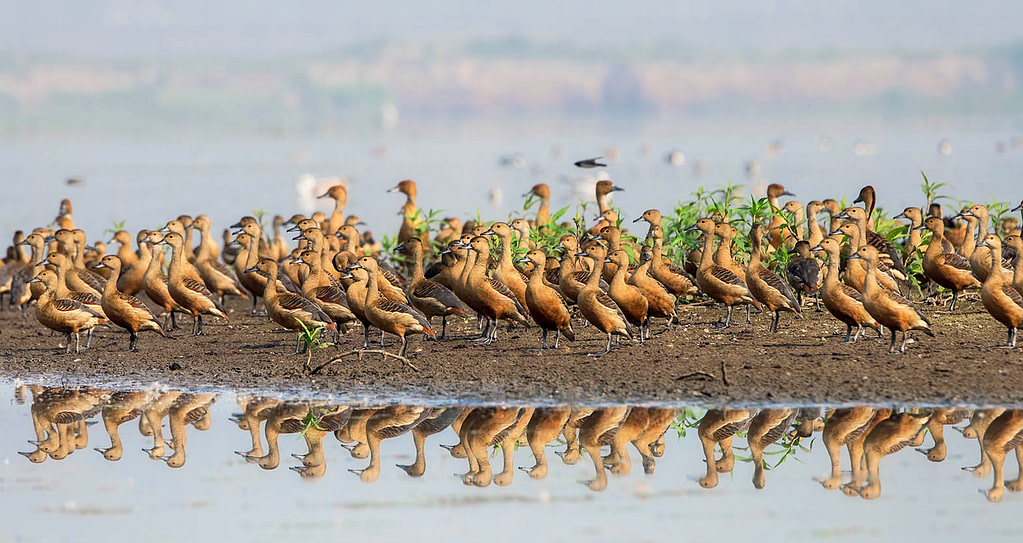 The rich diversity in the wildlife of Assam attracts about more than 900 bird-species including.
With the large number of wetlands around the state it becomes a paradise for bird-watchers during the Winters. Deepor Bil(Guwahatui, Maguri Bil (Tinsukia) and Borsola Bil (Jorhat) are three major wetlands where I personally love to see winter migratory species. They enhances the charm of entire wildlife of Assam.
When we talk about wildlife of Assam the foremost thing that comes into account is the Greater One Horned Rhinos.
 Assam is easily the best place to see this species. Wildlife of Assam is home to the greater one horned rhino of India. The continuous conservation approach of various National/International and Local organisations have resulted in ever increasing population of this species in various protected areas of Assam. The greater one-horned rhino is identified by a single black horn about 8-25 inches long and a grey-brown hide with skin folds, which gives it an armor-plated appearance. The species is solitary, except when adult males or rhinos nearing adulthood gather at wallows or to graze.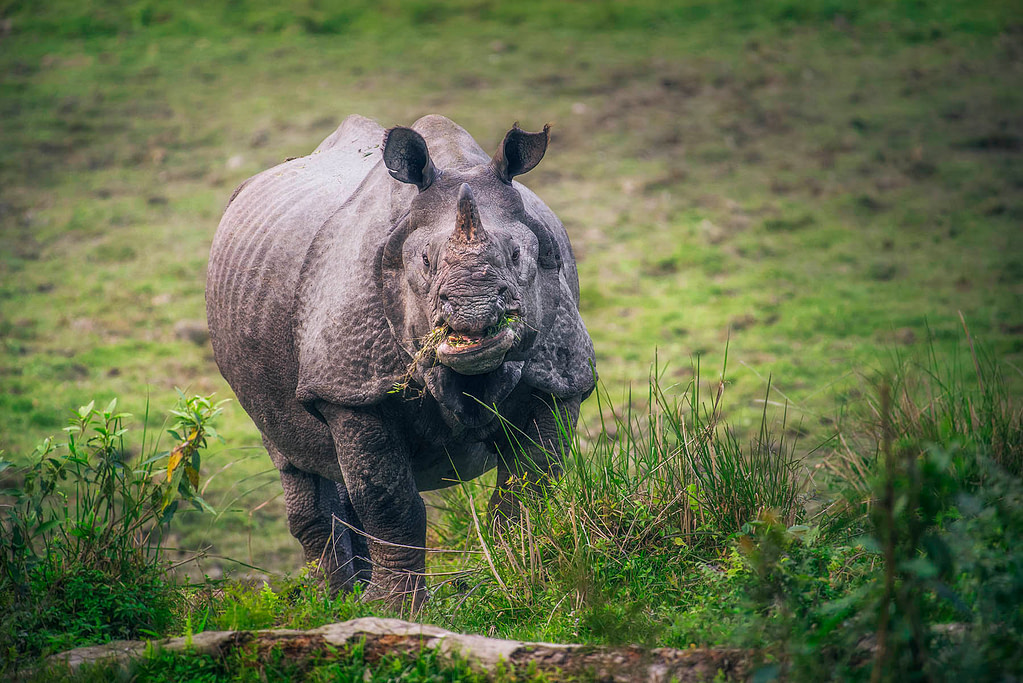 Kaziranga National Park is one of the prides of India. Kaziranga is the place where the nature unwinds its pristine form in millions of hues, where wildlife roams fearlessly, where man and nature meets together. This prestigious national park of India is situated in the north eastern part of the country in the district of Golaghat and Nagoan in the state of Assam. Let's go back to the beginnings of the twentieth century in the year of 1904 when this beautiful wildlife sanctuary was created, and about 68 years later it was declared as National Park. Lady Curzon's first visit in 1904 has helped Kaziranga Narional Park to get its first protected status of a Reserved forest in 1905. Subsequently it has passed various stages to achieve the World Heritage Site status. Kaziranga National Park has the highest population of Greater Indian One Horned Rhinos. 
Gallery - Wildlife of Assam
The way he stares into your eyes, keeping his huge body steady like a rock, he can make your heart freeze if you are not familiar with this species. The gaur, (Bos gaurus), also called the Indian bison, is the largest living bovine. Though Assam is believed to have a wide range distribution of this species in many protected areas, I have witnessed this beautiful species only once in Manas National Park since 2014 an significant approach to conserve the wildlife of Assam.
Probably 5th or 6th generation since they escaped from World War II. camps Ah! an exquisite beauty of wildlife of Assam to witness.
 During Summers and particularly during the monsoons only, you can reach to that particular area where these horses live. They are feral Horses of Dibrusaikhowa National Park of Assam. One has to do a boat safari of 6 to 8 hours depending upon its present location. If someone says you that you can see them during the winters also, do not believe them, because during winters the connecting rivers become drier and it becomes almost impossible to do a boat ride to reach the "original" feral horses of Dibrusaikhowa. A treat to your eyes to see them roaming around the lush green ( and very humid) sand bars of river Brahmaputra.
The Kaziranga National Park consists of 57% Grassland, 29% Woodland, 14% Wetland and Sand. And that 29% of woodland will give you sights of beautiful species like Sambar Deer (Rusa unicolor). During my morning Jeep Safaris in the Eastern Range (Bagori) I often encountered this beautiful species giving me eye to eye contact. Just like asking me " What are you doing in my territory". I love this species as a wildlife lover because it gives you time. Its a pride of the woodlands.
Ssp. Tenebricus, popularly named as Black capped Langur by most visitors who find this darker version of Capped Lanurs amidst the beautiful landscapes of Manas National Park. This is a sub-species which is little darker than the main species Trachypithecus pileatus. Capped Langur is a widely seen species in all over Assam, though this particular sub-species is believed to be recorded only in Manas National Park.
Asiatic Water Buffalo (Bubalus arnee) is one of the most ignored species by wildlife photographers. I love this widely distributed mammal because of its presence in all most all major wildlife destinations. Kaziranga National Park has the largest population of this species.
If You have never faced a mock charge of a wild elephant, honestly speaking you have not traveled the right places to enjoy wildlife. But sometimes you never know whether its a mock charge or a real one if its a gigantic creature. But in both the cases you need a heart made of steel to face them, shoot them when they are just a few meters away from you. Out of all such incidents I encountered till now, this one in Kaziranga was best for me, cause towards the end part we realized that its was not a mock charge.
Asiatic Water buffalo is such a species which will often give you ample time to compose your shot, adjust your camera settings, maintain your balance even during low light. An evening just after the sun-set, a herd is crossing in-front of your Safari vehicle, then you must know, some of them are about to give pose for you. In wildlife photography, anticipation is key. I shot this image in a very low light condition with a good result. That is why this one is one of the specials for me. An integral part of the wildlife of Assam.
Eastern swamp deer, R. d. ranjitsinhi, is a sub-species of Swamp Deer (Rucervus duvaucelii syn. Cervus duvaucelii), a species only found in Assam.Once it is believed to be found only in Kazirannga National Park of Assam, a tiny population has also been reported from Manas National Park. The heard of Eastern Swamp Deer is a treat to the eyes for any wildlife lovers. Specially when they pay attention to your presence they give you the perfect moment to shoot. They are always one of my fav subjects in Kaziranga.
The rich biodiversity of Assam hosts more than 930 bird species. The population of birds in Assam adds a significant percentage to the wildlife of Assam.
Kaziranga caters more than 480 species of birds migratory & resident all alone. The wildlife of Assam is a treat for ornithologists around the globe.Several other important families of birds inhabit Kaziranga, including rare species of hornbills (great Indian hornbill and the lesser risk wreathed hornbill), Old World babblers (Jerdon's babbler, marsh babbler) and weaver birds (the common baya weaver and the threatened Finn's weaver), thrushes (Hodgson's bushchat), Old World warblers (bristled grassbird). Other threatened species include the black-breasted parrotbill and rufous-vented prinia.
Greater Adjutant(Leptoptilos dubius)Storks are listed as endangered in world wildlife conservation status. Loss of nesting and feeding habitat through the draining of wetlands, pollution and disturbance, together with hunting and egg collection in the past has caused a massive decline in the population of this species. But thanks to few dedicated individuals the situation has developed significantly in few areas of Assam but yet a lot to be done to save this species and bring them out from Endangered Status.
The critically endangered red-headed vulture (Sarcogyps calvus), also know as Asian King Vulture is a rare bird species to see in Assam due to its decreasing population. I was lucky to see this rareity in two occasions, both in Kaziranga National Park. In 2016 I saw it in Central Range and in 2018 I saw it in Eastern Range.
Jerdon's babbler (Chrysomma altirostre) is another species which is enlisted as vulnerable. Its typical habitat is river-side grasslands where cogongrass (Imperata cylindrica), common reed (Phragmites) and reedmace (Typha), are found as dominant grass species. The wildlife of Assam being one of its best habitats. The Bramhaputra river banks in Assam are full of such rare and endemic bird species. I saw this bird in Maguri grasslands, Manas National Park, Kaziranga National Park and also heard its call in Orang National park and Roing river banks of Arunachal Pradesh.
Parrotbills have always been a great subject of interest for the bird-watchers. Among all Black-breasted parrotbill takes a special place into the records of wildlife of Assam. Black-breasted parrotbill (Paradoxornis flavirostris)is relatively lesser seen species among all the parrotbill species.This vulnerable species is treated as rare by the bird-watchers because in recent times it,s suitable habitats are getting destroyed every day. Grass land dominated with cogon grass (Imperata cylindrica), common reed (Phragmites) and reedmace (Typha)etc are its suitable habitat in the flood plains of river Bramhaputra of Assam and Lohit of Arunachal Pradesh. Restricted grass-land burning in protected areas, river erosion, domesticated animal grazing in river-side grass lands etc are some of the common problems due to which the habitats of this species is going down every year.
The Jerdon's bush chat (Saxicola jerdoni), a bird species very widely distributed across Bangladesh, China, India, Laos, Nepal, Thailand and Vietnam. Though its a LC bird-species, this species finds its name on top of every bird-watchers. Dibrusaikhowa National Park has a good distribution of this species in Assam. Apart from Dibrusaikhowa National Park, Deobali Jalah of Nagaon has a very good sighting records of this species. This wetland with a large habitat of grassland is an IBA (Important Bird Area) thanks to the efforts of Conservation based NGO, Green Guard Nature Organization.