What are the factors that drive us to create an image? Arts, Science or Commerce? In most cases it's Science, which means the techniques behind creating an image. With our naked eyes we never can see a start trail, neither can we see the colours behind a milky way, a waterfall with slow shutter effects, a multiply exposed night scape etc. Every day we see thousands of images created by thousands of Photographers across the globe, and mostly based on science. But the thought process behind such images is always based on Arts. The pre-visualisation is always based on our imaginations. In some cases, especially when we make an image commercially, that is, for a client, then the thought process has to be based on Commerce. Meaning, even before we shoot an image, we need to find out the utility of that image to the client. Success of a commercial or professional photographer lies on finding out the appropriate factor behind creating each of his/her images.
Most of my works are based on the factors of Commerce. But sometimes I create some images for myself, to fulfill my desire of my imagination. In that case I follow less science and more of arts. Luna Amor, is one of my such creations.
The Thoughts:
Luna Amor means Moon Love. Moon has always been one of my strongest emotions. Not only for me, the Moon means a lot for every lover, every dreamer, every loner, every traveler. In our childhood, the moon took the center place in the fairy tales that were told to us by our parents and grandparents. From the days of "Jun bai e beji eti diya" to the references of "Chanda Mama", from the sibling games under the moonlit courtyard to the first kiss holding the hands of my beloved under the full moon, it has always been fascinating and enriching my life. Probably the Moon is the only witness to those hundreds and thousands of artists during their days when they tried to understand their abilities and find out the way to express their creativity. The Moon is inspiration, it gives courage, it accompanies the loner and it romanticizes the lovers. The visual interpretations of Moon have always been larger than life in my mind. In this image I portrayed the importance and beauty of moon with a size, which we never can come across in reality with our naked eyes. I see myself as the lone boat-man fishing under the moon-lit sky, as a thinker having unknown numbers of thoughts running at the same time, witnessed by the Moon.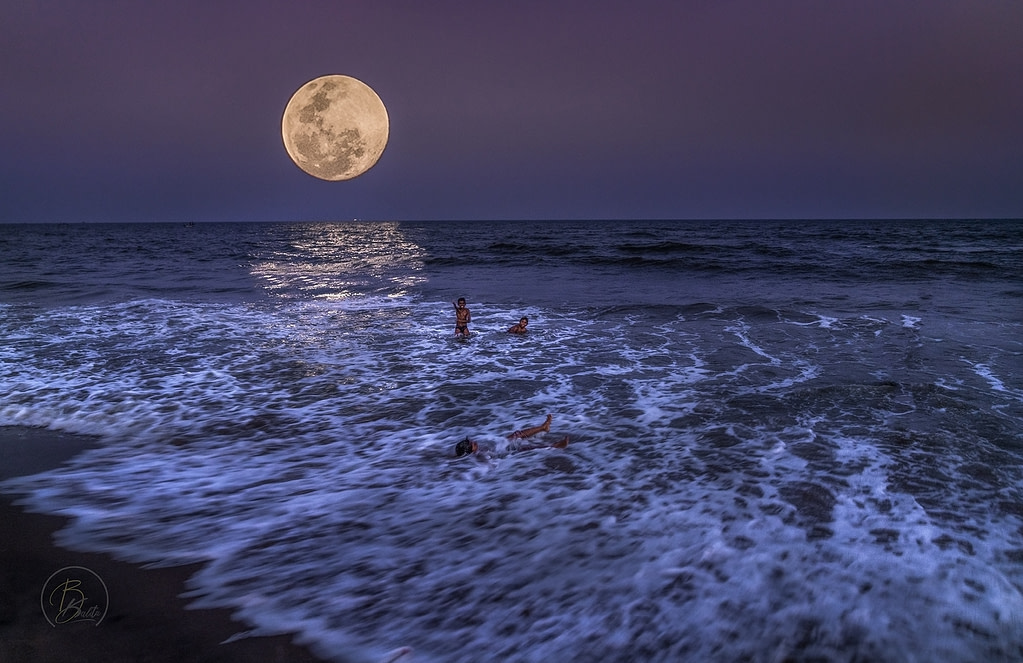 The location:
When I was traveling across the state of Tamil Nadu doing a commercial assignment, I came across the full moon for the first time in Chennai's Marina beach. During my causal evening walk in the beach, I left my regular equipment in my hotel room. And as a result I sadly missed an opportunity to re-create my imagination with the Moon. That day I decided to look for the timing of the full moon, and plan my schedule in a way that I get to see it in suitable locations. Pichavaram mangrove could have been the most appropriate location for such re-creation. Pichavaram mangrove is one of the largest mangroves of India located in Cuddlore District of Tamilnadu. But I reached a day earlier to the full Moon, and unfortunately I did not have the luxury of staying an extra day in any location due to my tight dead-line. I missed the full moon again. But I shot the elements that could create a perfect Moon-scape later on.
The Techniques:
The Techniques behind this shot is very simple. All experienced photographers already know the techniques used here. But for the newcomers who always wonder how such images are shot (When I started photography I always used to wonder how someone can shoot an image like this), I want to say that it is almost impossible to shoot an image like this in one shot and with single exposure. Here I have blended three raw images, one for the Moon (converted it into a 500 mm focal length shot), one for the landscape (which I shot after sun-set), and one for the birds. All the images were shot at the same location within a time span of one hour. After blending the images into one I started processing in Photoshop 2020 version. Anyone who has good steady hands, lots of patience and software knowledge easily can execute such blending. But the most critical part that I find in blending, especially when I choose to blend two or more images shot during different hours of the day and create an image which represents a totally different hour of the day, is to adjust the light conditions. Most of the experienced photographers usually adapt logical and scientific reasoning behind such processing. I also try to do it up to a limit until it starts to disturb by imaginations. Once I feel like logic and reasoning have started to spoil my imagination, I tend to follow my imaginations rather trying to make the image perfect. I am a strong believer that "Art never can be perfect". A piece of art is subjected to the viewer's interpretation. Some may like, some may not. In this image I have followed Art rather Science.
Conclusion:
After creating this image, I am more in love of the Moon now, and also the emotions associated with it. I am going to develop a series of Moon-scapes, trying to show its various impacts in our mind. I hope you all have liked this work of mine. If you think alike, you can leave your valuable comments here and share this work.